Project:
Juridico-Geometric-Ludocracy
Project:
Friends of Ogden Park 
Project:
The Institute for Future Life Regression
DELTA CITY
Installation at Katzman Contemporary: Kontort Project Space. April 2016.
Vinyl composition tile, looping video projection(digital animation).
Delta city is a modular series of sculptures, dimensions are variable.
Kontort Project Space is approximately 80 square feet.
In The Dust of This World.
A collaborative installation with Ella Dawn McGeough and Patric Cruz
at YTB Gallery September 2015.
Photos courtesy of Sam De Lange
LANDINGS at SBC Gallery, Montreal. 2013.
Curated by Sarah Watson
Images courtesy of Guy L'Heureux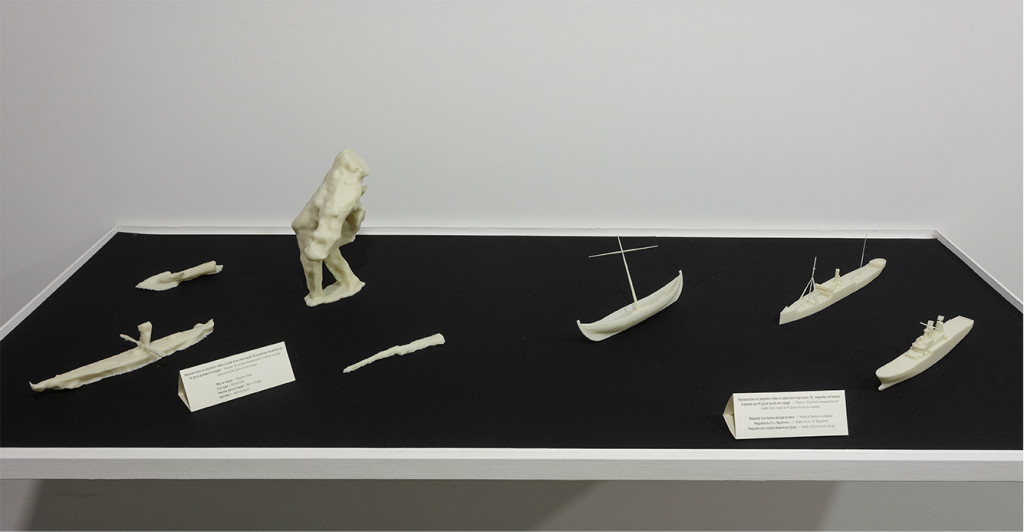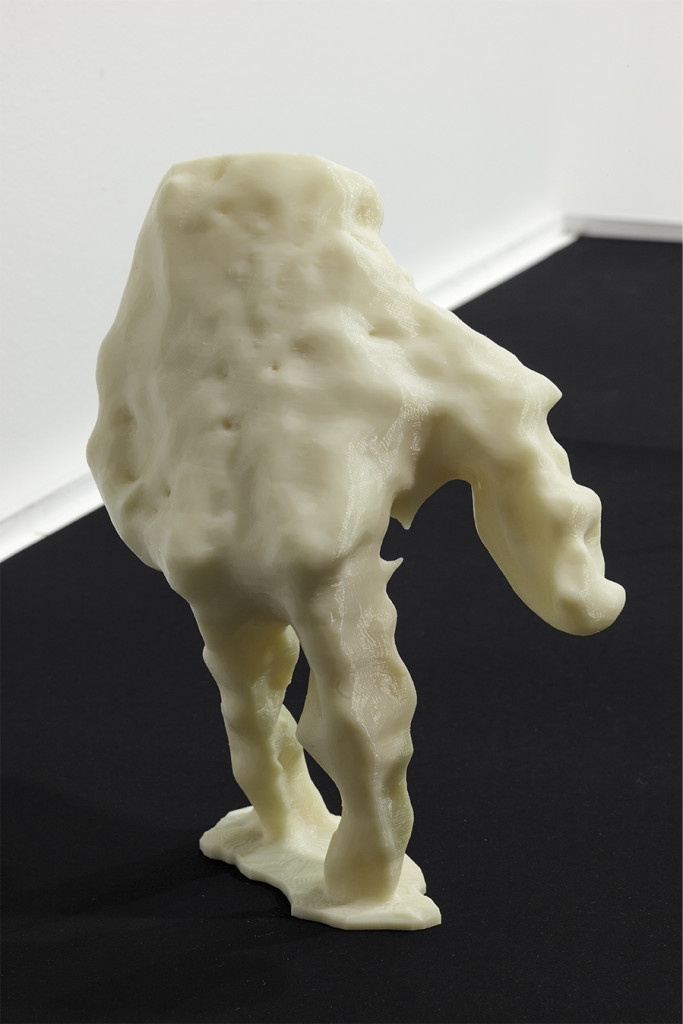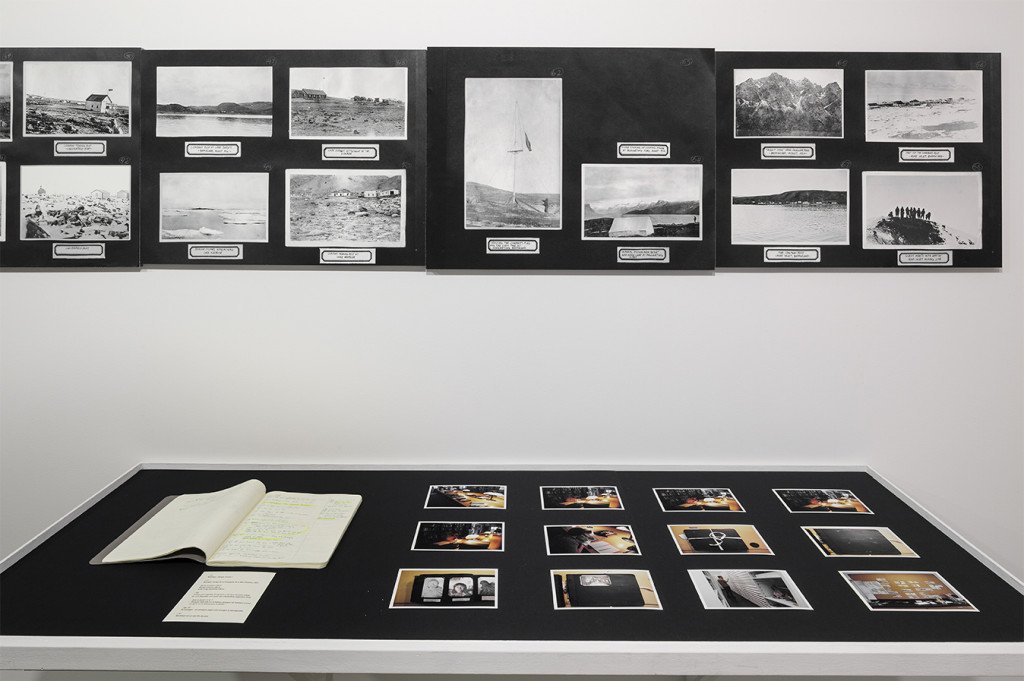 Images courtesy of Ron Diamond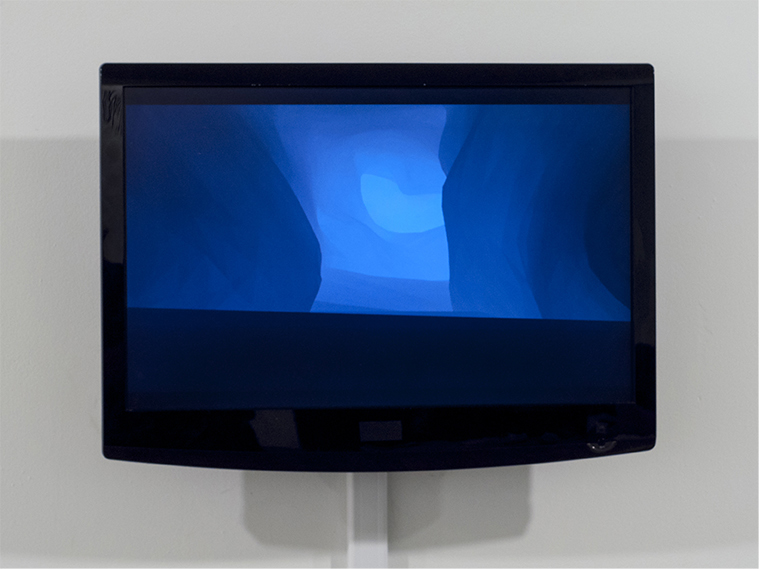 Reversion to The Original Point
2008 – 2013
A large and diverse body of work describing an over-arching meta-narrative:
the future history of New Brunswick Canada.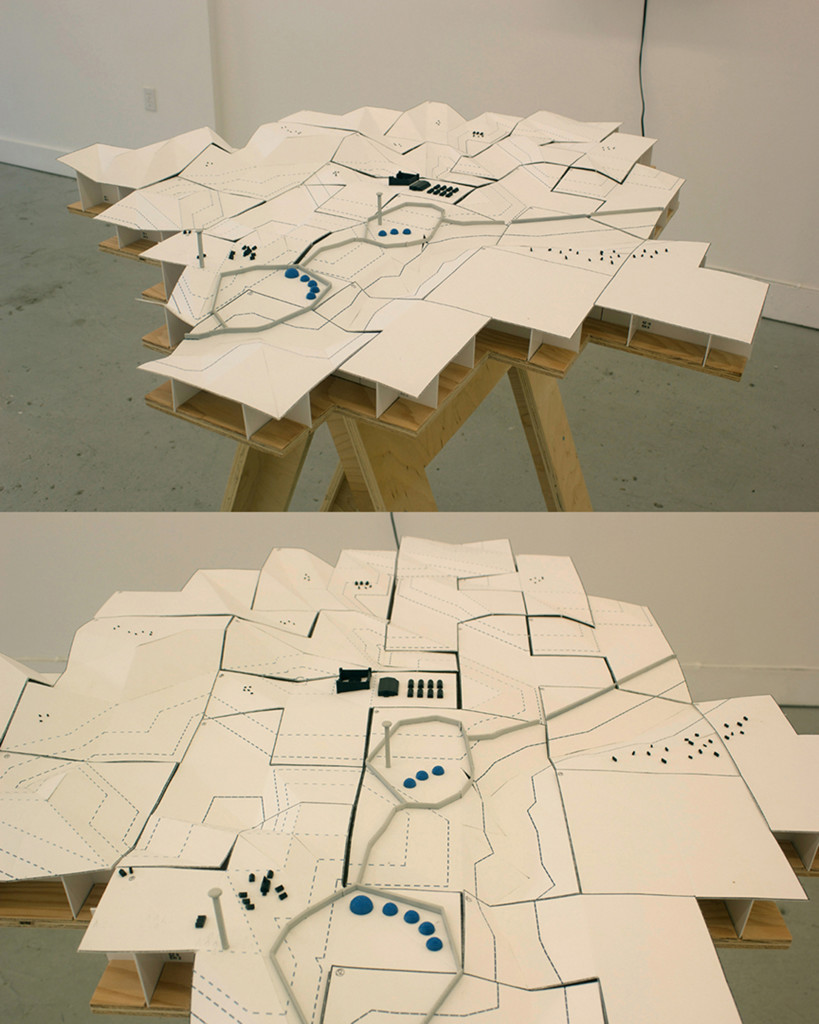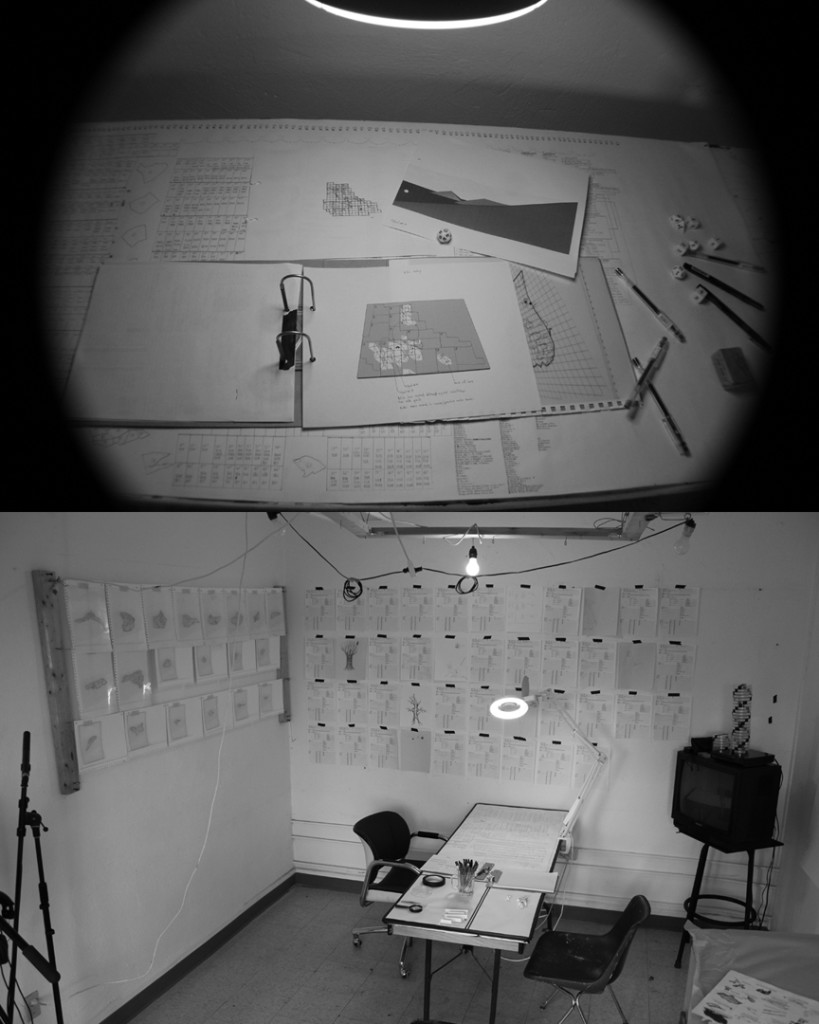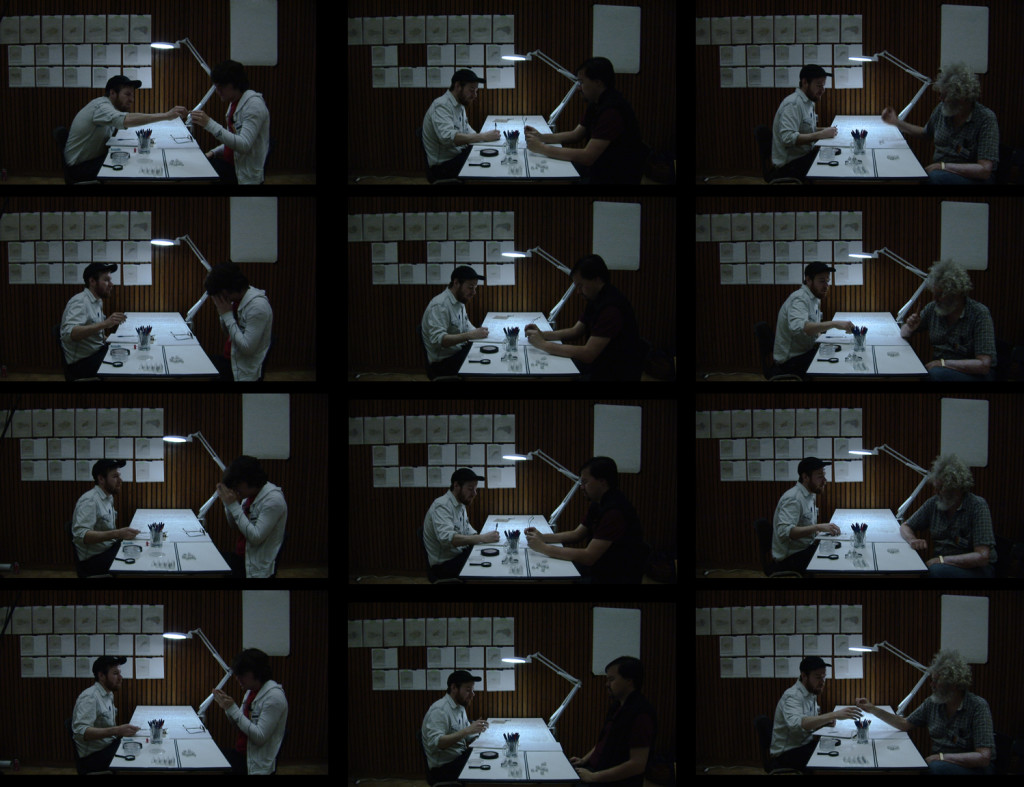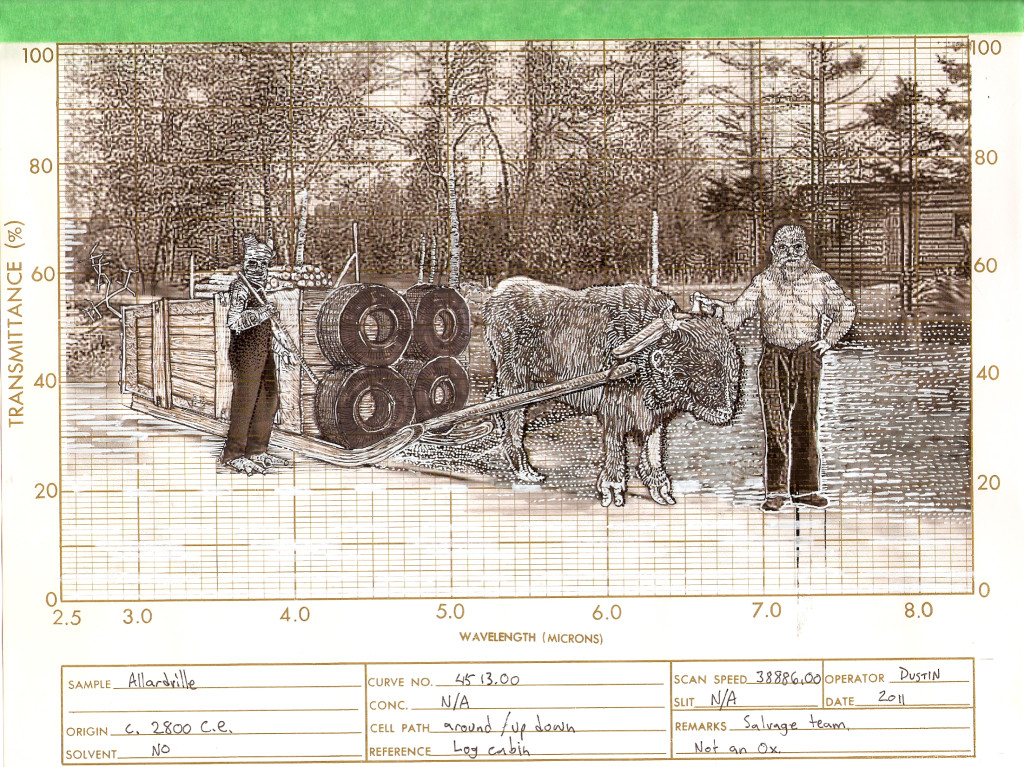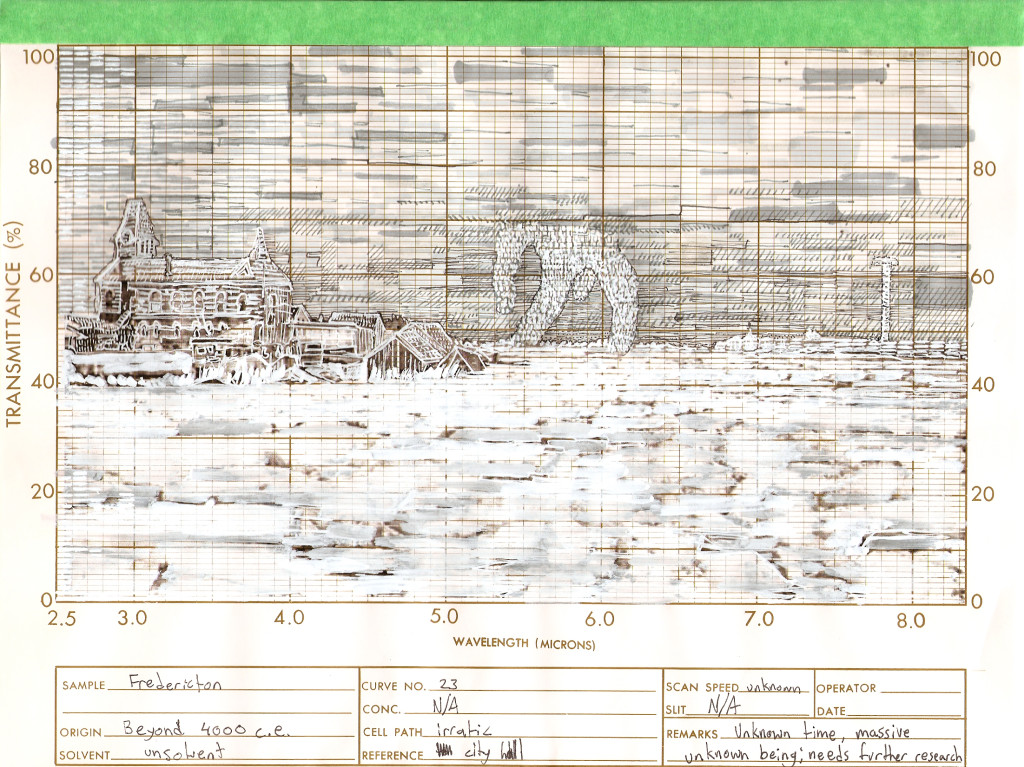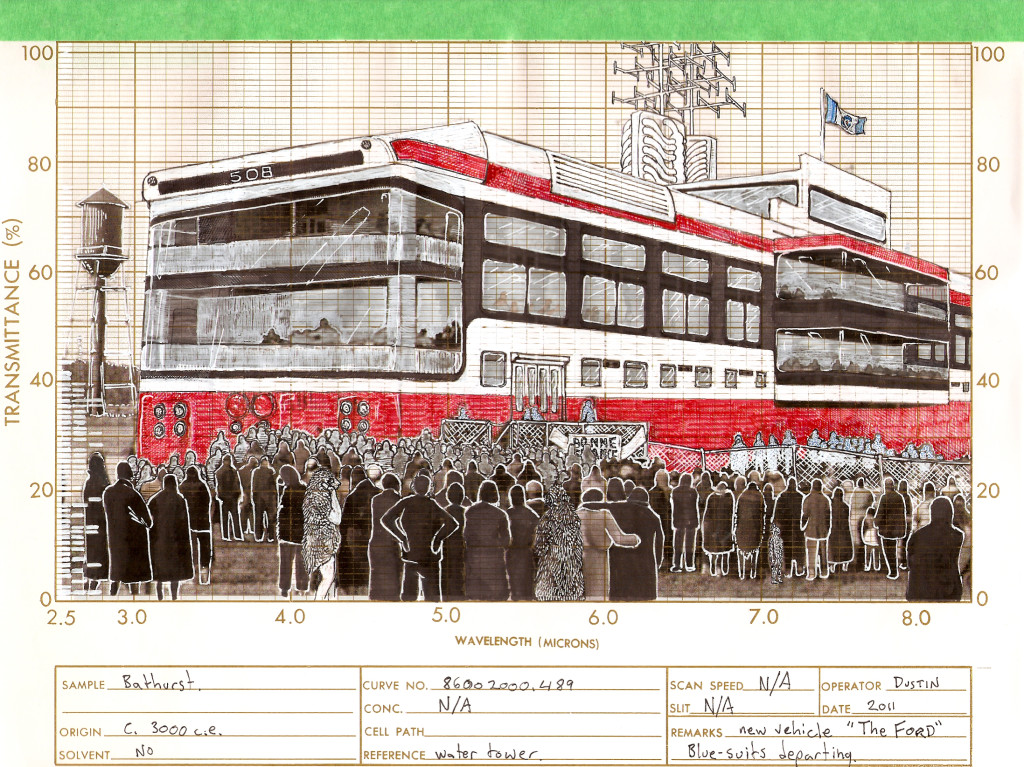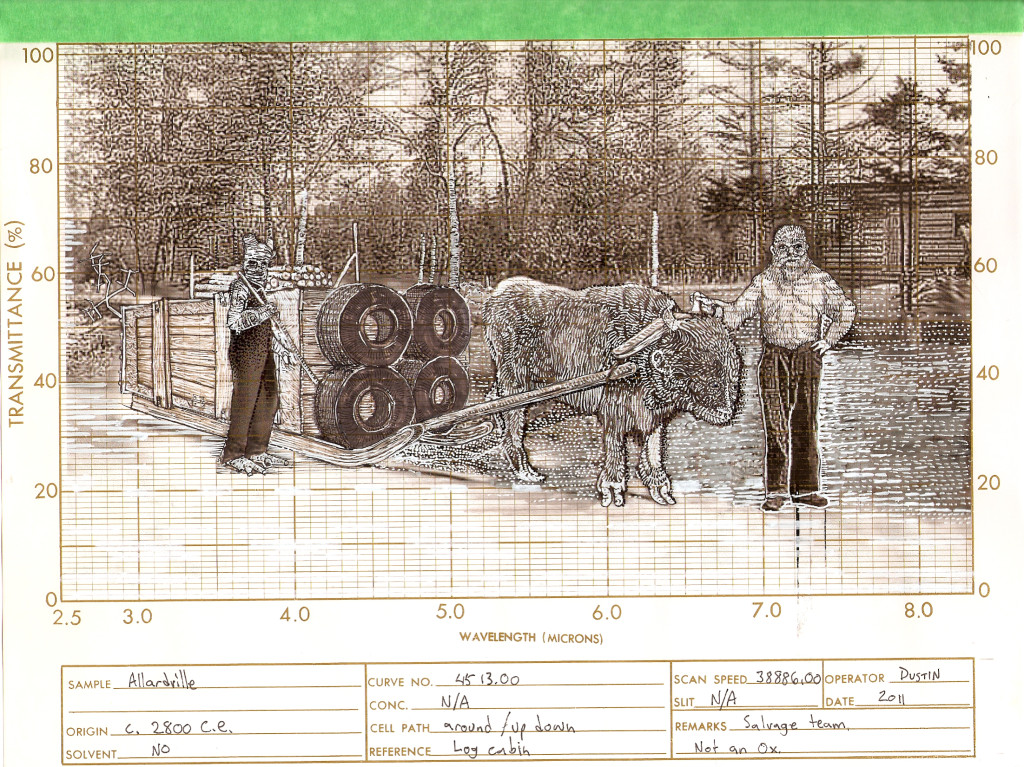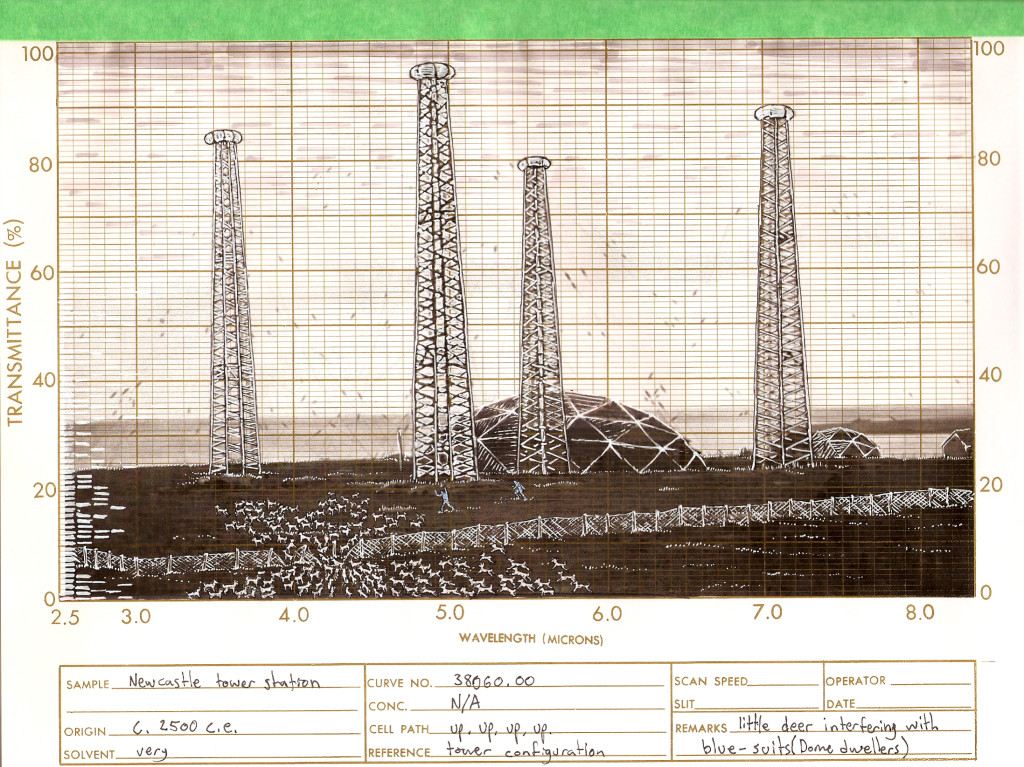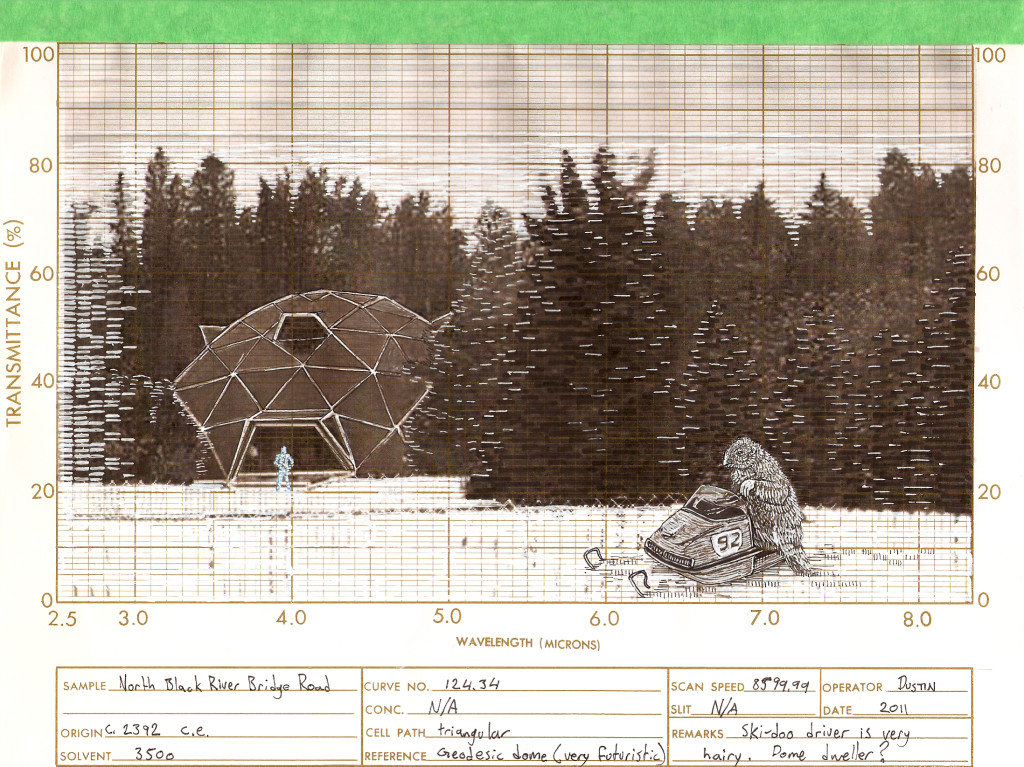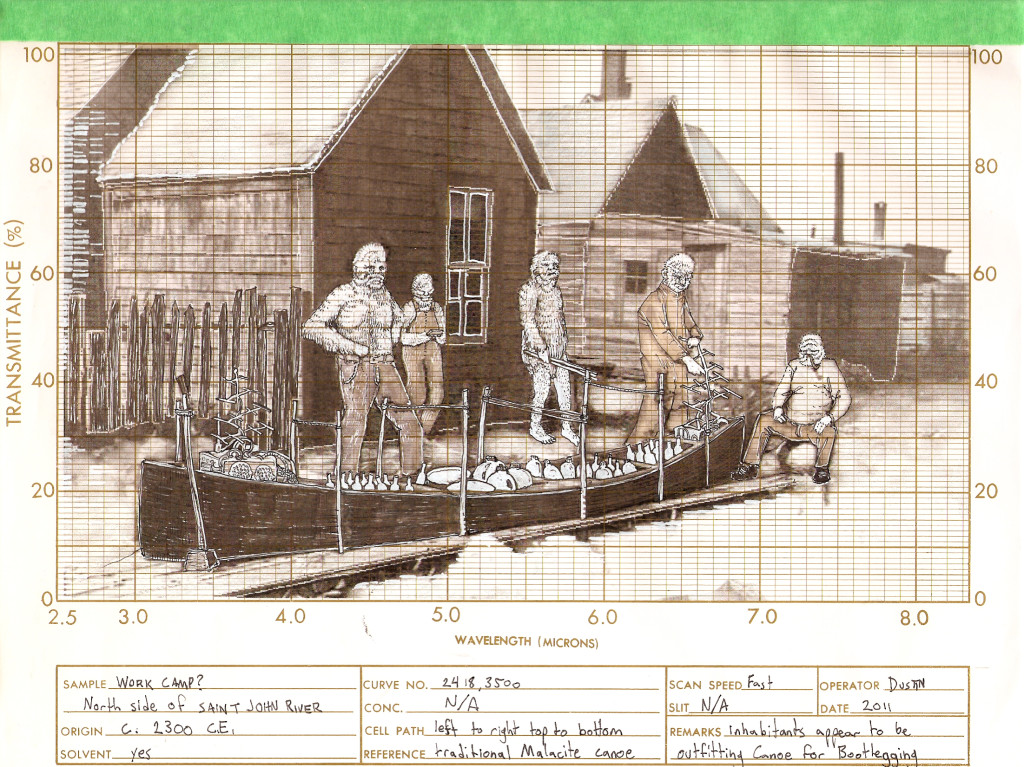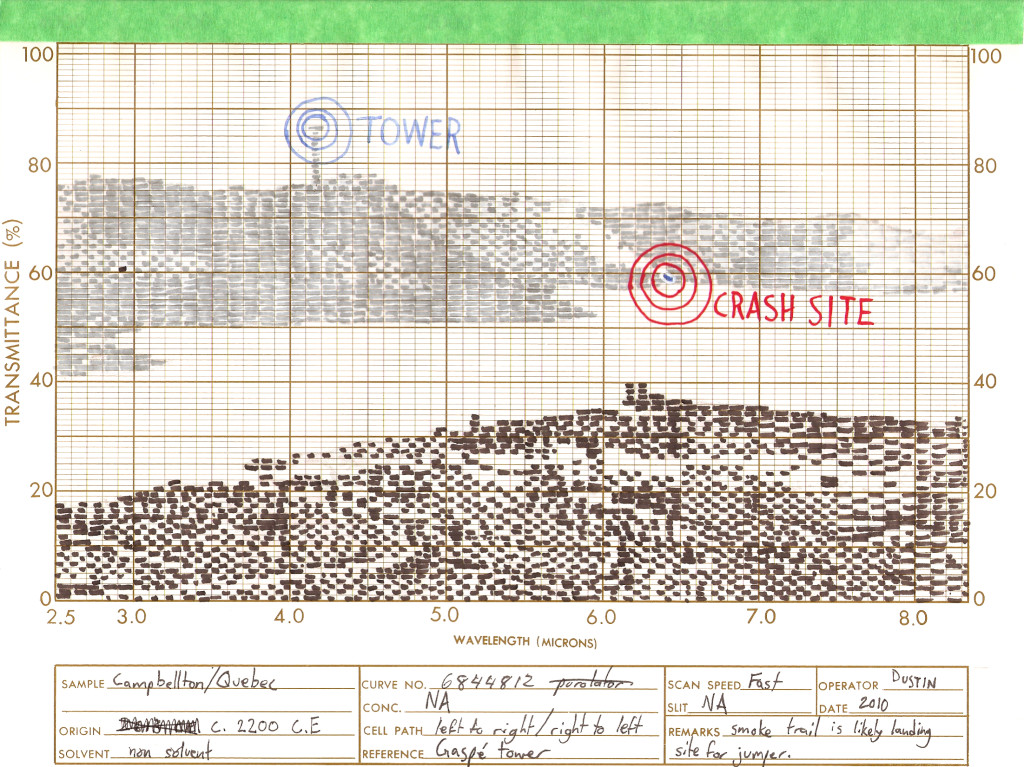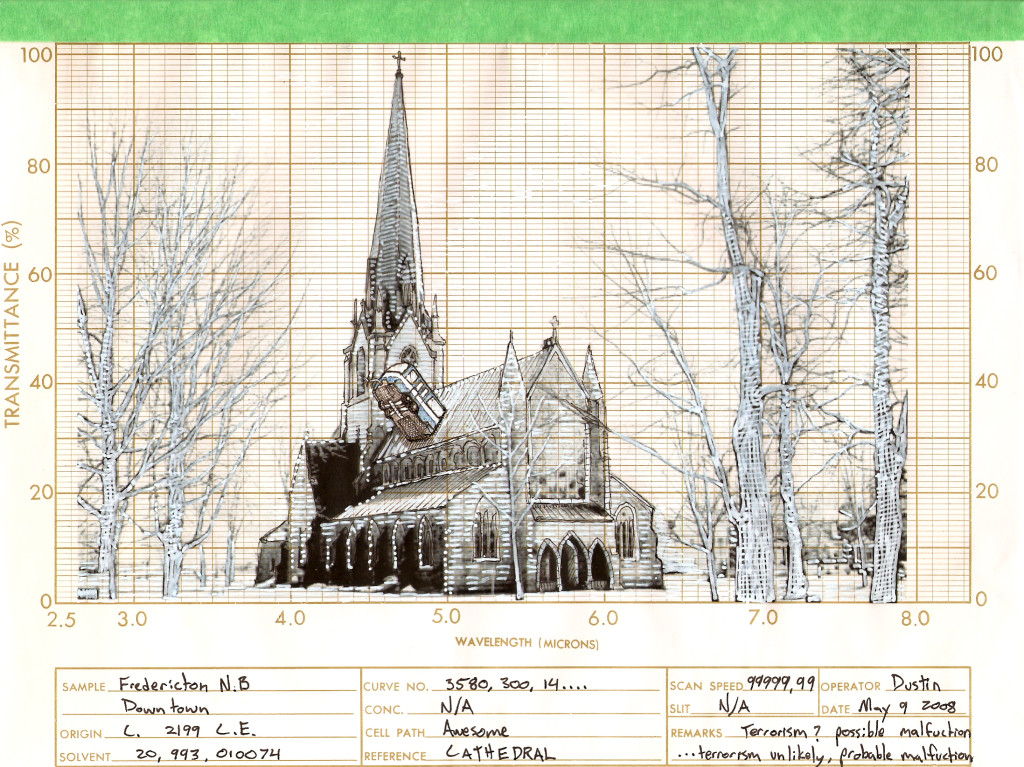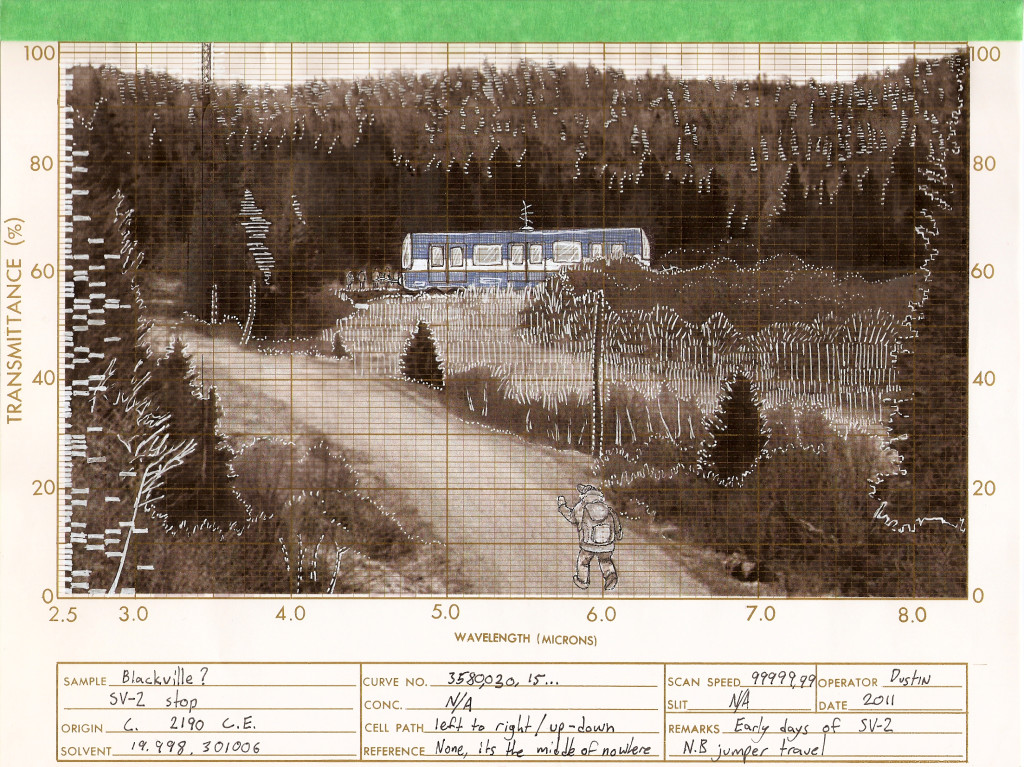 STATEMENT:
In order to be in relation with the world informaticaly (computationally) one must erase the world, subjecting it to various forms of manipulation, preemption, modelling, and synthetic transformation. The computer takes our own superlative power over worlds as the condition of possibility for the creation of worlds.
– Alexandre R. Galloway 
The introduction to Ursula Le Guin's novel The Left Hand of Darkness provides a core reference for my work. Here, she states that science fiction is not predictive, but rather descriptive, and is best used as a tool for thought experiments. Prediction, she says, is best left to the futurologists. The satirical conceit of my practice is that I am engaged in a form of futurology that Stanislaw Lem would describe as Metafuturology: the study of prediction itself as a humanistic counterweight to instrumental pragmatism. My recent research has led me to pursue  the two-part thought experiment— 'How will emergent technologies influence the future of ethical-moral phenomena?' And, 'How could speculative political regimes affect the mechanics of reality itself?' These questions form the basis of project I am calling Juridico-Geometric-Ludocracy.
Juridico-Geometric-Ludocracy was conceived as a methodology for producing transmedia art. The works I produce under this title are based in the reflexive relationship between image, animation and object in the post-digital world. The objective is to design objects with material qualities that disrupt tools of simulation and digitization (such as, photogrammetry, composite animation, motion capture and physics simulations). In this project I propose the interaction of an object's material qualities with digital imaging processes as analogies for the a dialectic of constraint and resistance between the systems of physical, political, and spatial organization that construct reality.
Juridico-Geometric-Ludocracy attempts to model alternate realities and politico-ontological regimes by using the rules and structures of games. Guy Debord described the nature of games as "Juridico Geometric," relating play to politics and cybernetics. The title of the project is inspired by the "futurolinguistic" wordplay of Lem's novel The Futurological Congress. In it, Lem writes about a future government that manipulates reality though the mass administration of hallucinatory narcotics by constructing a new reality as a method of social control. A regime that Lem called "Cryptochemocracy." Today, the Profits of techno-capitalism are predicting the "technological-singularity" as the moment of post-human transcendence. This  prediction — hypothetically—  positions the structures of video games as foundational for the creation alternate realities. Continuing from this metaphysical understanding of computer simulations, I am looking at digitally simulated universes as sites for reality-constructing-political-regimes like "Cryptochemocracy." Developing scenarios that I consider both a comic proposition and a strange possibility.
BIO:
Coming from New Brunswick and based in Toronto, I like to tell stories through my work. I use science fiction and games as vehicles for producing experimental narratives in video and sculpture. I earned a BFA from Mount Allison University and a MFA from the University of Guelph. I have shown work in galleries across Canada including Katzman Contemporary, SBC, Eastern Edge, Struts, Skol, AKA, and Modern Fuel. I have received funding from CALQ, and the Canada Council for the Arts. I was a 2015 recipient of the OAC Chalmers Fellowship Grant which funded a period of practice based research, develop tools and theory relating to the use of: video games and game structures for making and experiencing art; modelling, compositing and computer controlled fabrication.
CV:
UPCOMING:
2018 Solo exhibition at PAVED Arts, Saskatoon SK.
2017 ⋛⋋( '◇')⋌⋚ PiGEON ⋛⋋( '◇')⋌⋚ Psycho-Geographic-ExcursiON, APRIL 29. Participants will be guided through a psycho-geographic-birding excursion of the Bloor St. Cultural Corridor by Toronto-based artist collective Friends of Ogden Park and FLAP Canada.
EXHIBITIONS/PROJECTS/PERFORMANCES:
2016
 一二三(´◔‿ゝ◔`)☞ OGDEN PARK: RETREAT! ─=≡Σ((((͡◔ ͜ʖ ͡◔)☞, in collaboration with Ella Dawn McGeough. Intersite Festival, Calgary Alberta Nov. 2 – 5 2016. OGDEN PARK: RETREAT! is a evokes a corporate-style-reatreat featuring a motivational presentation, think-tank, trust exercises and team games running through the festival all designed to help you navigate your post-human experience following the technological singularity.
Delta City, Katzman Contemporary, Toronto, ON, April 2 – April 30.
The Delta City Proposal: An Animated Lecture. 30 min. Katzman Contemporary, Toronto, ON, April 30.
2015
 ¯\_(ツ)_/¯ (BiWay Art Foundation Residency Application Form). BiWay Art Foundation, The Wrong digital art biennale. The Wrong is the largest and most comprehensive digital art biennale today. BiWay Art Foundation is a online pavilion curated by Rea McNamara for the Wrong. Nov. 2015 – Jan. 2016. http://thewrong.org/BiWay-Art-Foundation.
☄☹️✂ (⌘U÷ & ÷U⌘) (anything united will divide; anything divided will unite), Forest City Gallery, London ON. In conversation with Ella Dawn McGeough's exhibition of In the dust of this world at Forest City Gallery, Dustin Wilson and Ella Dawn McGeough lead an animated presentation on the research of Friends of Ogden Park followed by ☄☹️✂ (⌘U÷ & ÷U⌘) an augmented, team, version of the game "rock, paper, scissors." Nov. 14, 2015.
In The Dust of This World, YTB Gallery, Toronto ON. A collaborative installation featuring works by Ella Dawn McGeough, Dustin Wilson and Patric Cruz.
╚(ಠ_ಠ)=┐ > :( < (°▾°)☝(action causes more trouble than thought), YTB Gallery, Toronto, ON. An augmented version of the game "capture the flag" where three teams compete rather than two. Held in conjunction with the opening of  In The Dust of This World at YTB Gallery. Sept 4 2015.
Ultra-sensitive eyeballs tracing a silver wake from silver to blue, Garden Ave Gallery, Toronto ON.
Working Title: An Exhibition of Contemporary Maritime Artists, Saint John Arts Centre, Saint John NB.
2014
 X# (=_=)(+_+) > Y (X number of heads are greater than Y). High Park, Toronto, ON. An augmented version of "Hide and seek" where teams hide objects then help the seeking team find them using text message communications. June 30, 2014.
The Rock Rooms are an entity composed of a shifting group of collaborators engaging in art actions, interventions, situations and experiments in "Rock Rooms" as a form of institutional critique. The Rock Rooms was initiated by Alfonso Borragan(London, UK) and Dustin Wilson (Toronto, CAN) in January 2014 while in residence at the Banff Centre:
The Rock Rooms Presents: Megalithofagos. A participatory action by Alfonso Borragan and Dustin Wilson in collaboration with EricWatts, Postcommodity, Sean Procyk and Sebastien Aubin. Glyde Hall (metal working studio), Banff Centre. Feb. 7 2014.
The Rock Rooms Presents: In Conversation with the Moon. A reading by Daryl Lucero in collaboration with Alfonso Borragan, Dustin Wilson and Sebastien Aubin. Eric Harvey Theater Building (secret room), the Banff Centre.  Feb. 14 2014.
The Rock Rooms: Study for Symbiosis and Synthesis. A participatory performance by Dustin Wilson and Nicole Kelly Westman in collaboration with Alfonso Borragan, Kate Jackson, Sean Procyk and Sebastien Aubin. Sally Borden Recreation Centre (basement), The Banff Centre. Feb. 18 2014.
The Rock Rooms: Vinci Hall Peep-Hole. An intervention by Alfonso Borragan and Dustin Wilson in collaboration with Sean Procyk. Vinci Hall (storage area), The Banff Centre. Permanent installation.
2013
The Institute for Future Life Regression, G Gallery, Toronto ON. MFA Graduate exhibition. Solo
In The Outfield, Olga Korper Gallery, Toronto ON. University of Guelph MFA group exhibition.
Landings, SBC Gallery Montreal, QC. Curated by Sarah Watson featuring commissioned work by Dustin Wilson as well as works by Zacharias Kunuk and Peter Pitseolak / Joanasie Salamonie. Part of a thematic series at SBC on "Sovereignty," also featuring exhibitions with Trevor Paglan, Hito Steyerl and Harun Farocki.
2012
The Institute for Future Life Regression, Modern Fuel Gallery Kingston, ON. Solo
FUTUROLOGIST, AKA Gallery, Saskatoon, SK. Solo
The Society for Future Anachronism. A week long project for the Tête-a-Tête Media Talks, an expanded media arts conference in Sackville, NB
Jungle, Zavitz Gallery, Guelph ON. MFA group show.
2011
Reversion to the Original Point, Eastern Edge Gallery, Saint Johns, NL. Sharing gallery space and in conversation with Elainor King's exhibition No Signal.
The Broth, Zavitz Gallery, Guelph ON. MFA group show.
Reversion to the Original Point, Skol Gallery, Montreal, QC. Solo.
2010 Reversion to the Original Point at Galerie Verticale, Laval, QC.
GRANTS AND AWARDS:
2015/2016 Chalmers Arts Fellowship, practice based research grant.
2011 Visual Arts emerging artist project grant. Canada Council for the Arts.
2008 Quebec-New Brunswick artist-in-residence. Conseil des arts et des lettres du Quebec, Grant program for professional artists. April 1-July 1 2008.
PROFESSIONAL EXPERIENCE:
2016 Social in the Studio: with Dustin Wilson(workshop), InterAccess Gallery. Toronto, ON. Nov. 15 2016
Studio Assistant  for Laurel Woodcock.
Educator: Trinity Square Video, Toronto, ON. Leading workshops on digital compositing and 3D animation
2014 – present Board member, G Gallery. Toronto, ON.
2014 Speaker: The Power Plant Sunday Scene. Interpretive tour of the exhibition Mike Nelson: Amnesiac Hide. May 4 2014.
2012 – 2013 Studio Assistant for Fastwurms. Working on large scale public art projects.
2013 Assistant/Installer for Allyson Mitchell's Kill Joy's Kastle
2012 Instructor, 3D and time based Studio Art Foundations (SART 1060), University of Guelph, (two semesters)
2011 – 2012 Digital Photography Lab Assistant for Universty of Guelph professor, Susan Dobson
2012 Visiting Artist Lecturer: University of Saskatchewan, Saskatoon
2010 Guest lecturer for the drawing 200 and drawing 300 classes at Concordia University.
PUBLICATIONS AND REVIEWS:
2015 Art F City: The Best 25 Shows of 2015(under "Best Digital Art Shows," featured in the description of The Wrong digital art biennale: http://artfcity.com/2015/12/31/the-best-25-shows-of-2015/
Canadian Art Magazine. Review by Sophia Bartholomew: Working Title: An Exhibition of Contemporary Maritime Artists
2013 BorderCrossings. Review be Aryen Hoekstra: Sovereignty: Trevor Paglen and Landings.
The Unknown Artist. Published by Skol Gallery.
2012 BlackFlash Magazine, Cover. David LaRiviere: The Dice That are Thrown and the Dice That Fall Back, interview.
Planet S: Saskatoon's City Magazine. Bart Gazzola: Review of FUTUROLOGIST. Jan 26-Feb 8, 2012, volume 10, Issue 11.
EDUCATION:
2013 MFA, University of Guelph
2006 BFA, Mount Allison University (officially graduated in 2009).